Welcome to University Facilities
Our mission is to create, enhance and maintain a high quality of living, learning and working environment that enables the University's teaching, research, public service and student development programs to reach their fullest potential.

Facilities Newsletter

Blog

Twitter
Safety First
University Facilities helps provide a clean and welcoming campus for Clemson students, faculty, staff and visitors. Part of that responsibility includes fostering a culture with an emphasis on safety.
Learn more about our Safety Program
Staff Recognition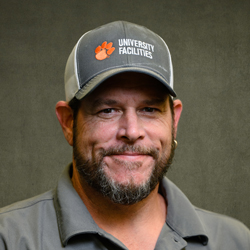 Dale Herron
Maintenance Services
"From the first moment he arrived to assist us, Dale has been responsive, shown a real interest in resolving our interests, has kept me updated on the progress made and future expectations, and has done it all with a smile and a willing spirit.
Anolyn Watkins
Office of Teaching Effectiveness and Innovation